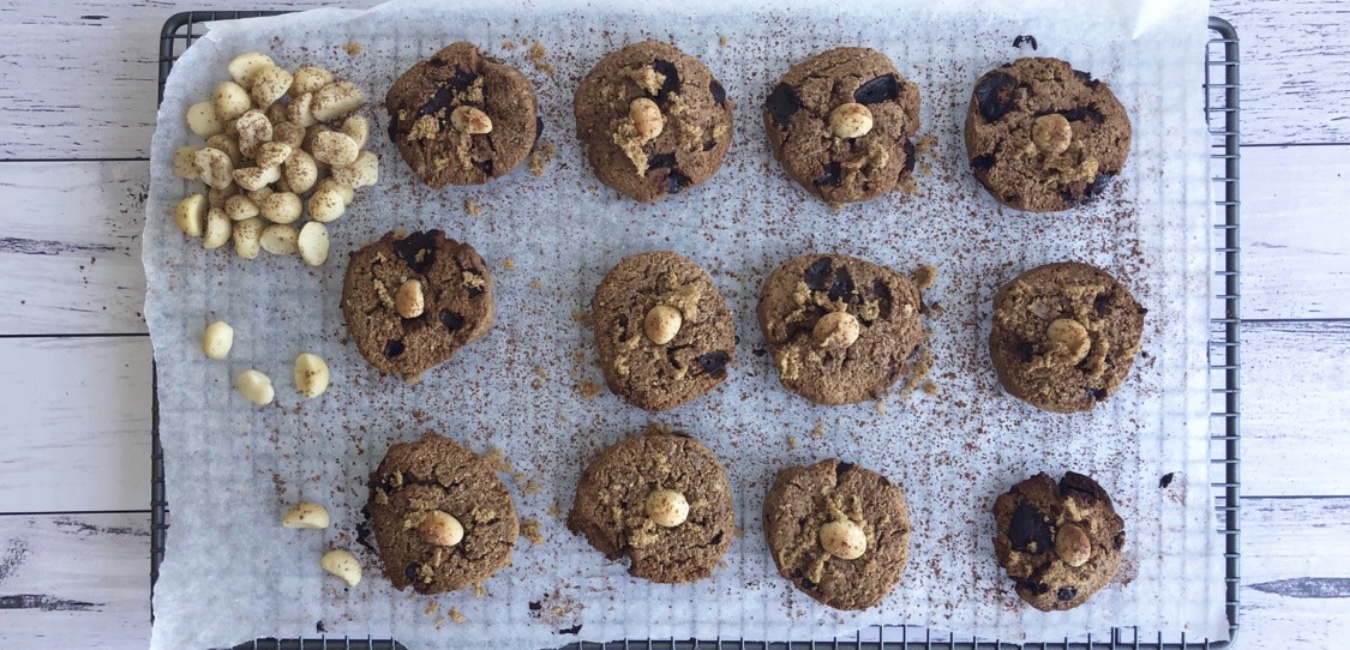 Macadamia and hazelnut cookies | 180 cals per cookie | 1445 per jar of nut butter
Macadamia and hazelnut cookies

|

180 cals per cookie

|

1445 per jar of nut butter
I'm totally nuts about these little cookies, the yummy chocolatey nut butter makes them so irresistible, it's almost impossible to stop at just one.     
You will need:
Cacao butter – (makes 2 jars) 
2 cups hazelnuts 
1 cup macadamia nuts 
5 tsp cacao powder
4 tbs rice bran syrup 
pinch salt 
coconut milk 
ground nut oil
Macadamia and hazelnut cookies (makes 12)
1 jar cacao nut butter
1/2 cup plain flour 
1/4 cup coconut flour 
1/4 cup brown sugar 
1 large egg beaten 
1 tsp vanilla essence 
1/2 level tsp baking powder 
50g of 70% chocolate
Top tip:
The cacao nut butter is delicious spread onto some wholemeal toast and topped with fresh blueberries, strawberries and a drizzle of honey for an indulgent breakfast. 
Simple steps:
To make the nut butter:
Place the nuts into a food processor, add a dash of coconut milk and blend for 3-4 minutes until you have a smooth butter. 
Add the cacao powder, honey, a dash more coconut milk and a pinch of salt and blend again for another minute or two.
Add a good glug of ground nut oil and give it one final blend.
Store the spread in a jam jar in the fridge, it'll keep for about 2 weeks. 
To make the cookies:
Pre heat your oven to 180°C, fan forced.
Spoon one jar of the nut butter into a large mixing bowl and sift in the plain flour, coconut flour and baking powder, add the brown sugar then carefully rub the ingredients together with your fingertips to create a fine breadcrumb consistency. Add the egg and mix once more.
 Roughly chop the chocolate into small pieces and add to the mix. 
Bring the cookie mix together then roll into a long sausage shape roughly 5cm in diameter on top of a large piece of cling film.
Wrap the cookie dough in the cling film, then holding the edges of the cling film roll the dough away from you, repeat this until the dough forms a thick sausage shape thats the same diameter all the way across. Chill in the fridge for 30 minutes.
Remove the cling film and slice the cookie dough into roughly 1cm thick cookies and place onto an oven tray lined with greaseproof paper. Push the cookies down a little to ensure they cook evenly. 
Oven bake for 15 minutes, once cooked leave to cool on a cooling rack.