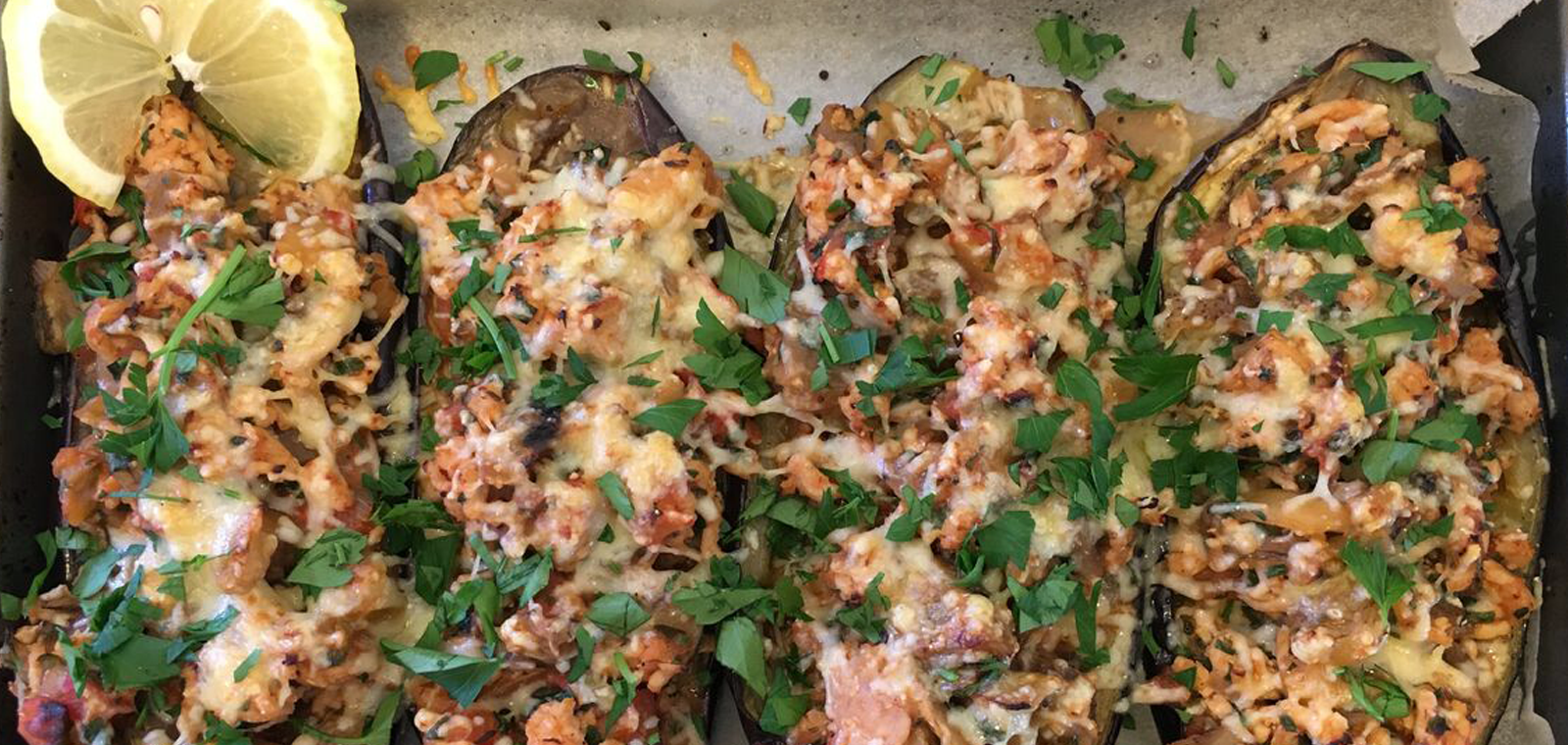 Oven baked eggplant stuffed with mince and halloumi | 880 cals per serve
Oven baked eggplant stuffed with mince and halloumi

|

880 Cals per serve
Mum used to make this dish for me growing up and it's still one of my favourites.  Eggplant is already such a meaty vegetable so it really works well filled with a rich mince.
You will need:
(serves 4)
2 large aubergines

500g extra lean beef mince

1 white onion finely diced 

2 garlic cloves finely diced 

8 button mushrooms finely diced

250ml beef stock

1 tablespoon tomato puree

1/2 block halloumi cheese

2 teaspoons dried oregano

salt and pepper

1/2 bunch fresh parsley

1 lemon

fresh salad mix (lettuce, cucumber, tomatoes etc)
Simple steps:
Preheat your oven to 200

°C

Turn your aubergines on their side and cut in half.  Score long crosses into the flesh carefully making sure you don't pierce the skin. Drizzle with a good glug of olive oil and season with salt and pepper and bake in the oven for 25 mins.

Pan fry the onion, garlic and mushrooms, once golden brown add your mince. Break up the mince with a spoon. Once the mince starts to brown add the tomato puree and about half a cup of your beef stock and continue to cook for 5 mins then add the rest of the beef stock, reduce the heat and cook for a further 20 mins on a rolling heat.

Adjust the seasoning then remove the pan from the heat.  Pass the mince though a colander collecting any of the liquid in a pan and then reduce the liquid for a further 10 mins on a slow heat.  Add a couple of spoons of the flavoured liquor back to the mince making sure it is not too wet.  Place your cooked mince into a large bowl and leave to cool for about 10 mins. Whilst this is cooling grate the haloumi and chopped fresh parsley and squeeze fresh lemon juice into your mince. Leave a little halloumi to one side.

Once the aubergine is cooked scrape the flesh out of the middle. Roughly chop the flesh and add to the mince. Mix everything together. Place the aubergines in a deep oven proof tray then spoon the mince into the aubergine boats. 

Top with a little halloumi then grill on a high heat for 6-8 minutes or until the halloumi starts to turn golden brown. Serve with a fresh green salad.