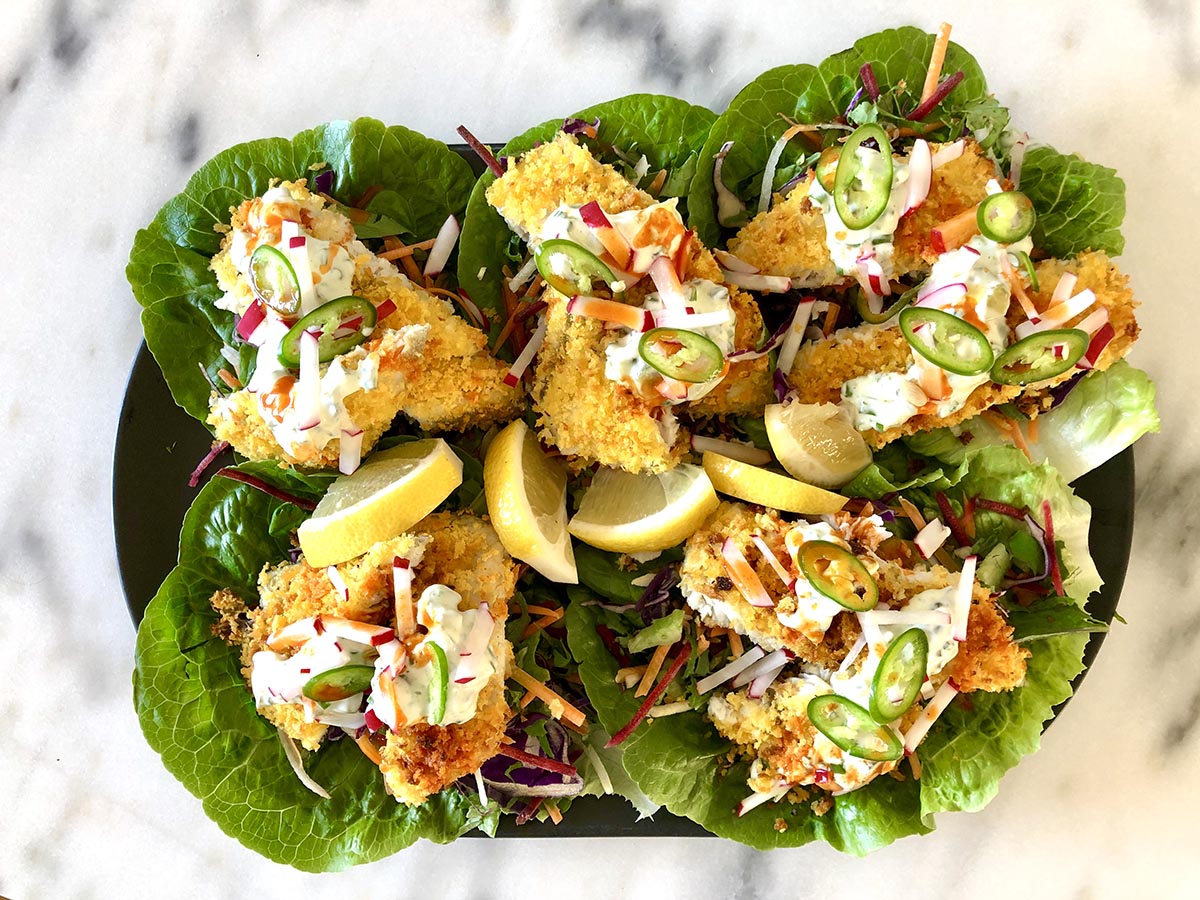 Naked Crumbed Barramundi Tacos | 570 cals per serve
Naked Crumbed Barramundi Tacos

|

570 cals per serve
You will need:
(Serves 2)
2 large barramundi fillets, skinless 
6 large gem lettuce leaves
1/2 bag slaw mix (carrot, red cabbage, beetroot, kale)  
1 green chilli, finely sliced 
2 tbsp mayonnaise 
6-8 baby pickles, roughly chopped
1/2 bunch chives, finely chopped 
1 bunch radishes, finely sliced
1/2 bowl panko breadcrumbs 
1 lemon 
red and green chilli sauce, habanero
salt & pepper 
2 tbsp extra virgin olive oil
Simple steps:
Preheat the oven to 180 degrees. Open up the paper your fish was wrapped in and place the fish right in the middle. Drizzle olive oil over the top of both fillets and rub well into the fish on both sides.

Add a good pinch of salt and pepper to the panko crumbs then generously scatter over the fish pressing it into the flesh. Repeat both sides then place the fish onto an oven tray lined with greaseproof paper. Scatter the rest of the crumbs over the top creating a nice crust and ensuring all of the flesh is well covered.

Finally drizzle a little more oil over the top and bake in the oven for 15-20 minutes depending on the size and thickness of the fillets. 

Mix the mayonnaise, chives and baby pickles together in a small bowl then add the juice from half a lemon along with 2 tsp green chilli sauce and give it one final stir. 

Wash the lettuce cups and arrange on a large serving plate, add a small handful of raw slaw to each cup. 

Once the fish is cooked, leave to rest for 2 minutes and squeeze the other half of the lemon over the top. 

Slice the crumbed fillets on the angle aiming for 4-5 thick pieces from each fillet. Carefully lay the fish on top of the lettuce cup then spoon over a few teaspoons of spicy mayonnaise. Top with fresh radish, chilli flakes, red chilli sauce and any left over crumbs from the tray.