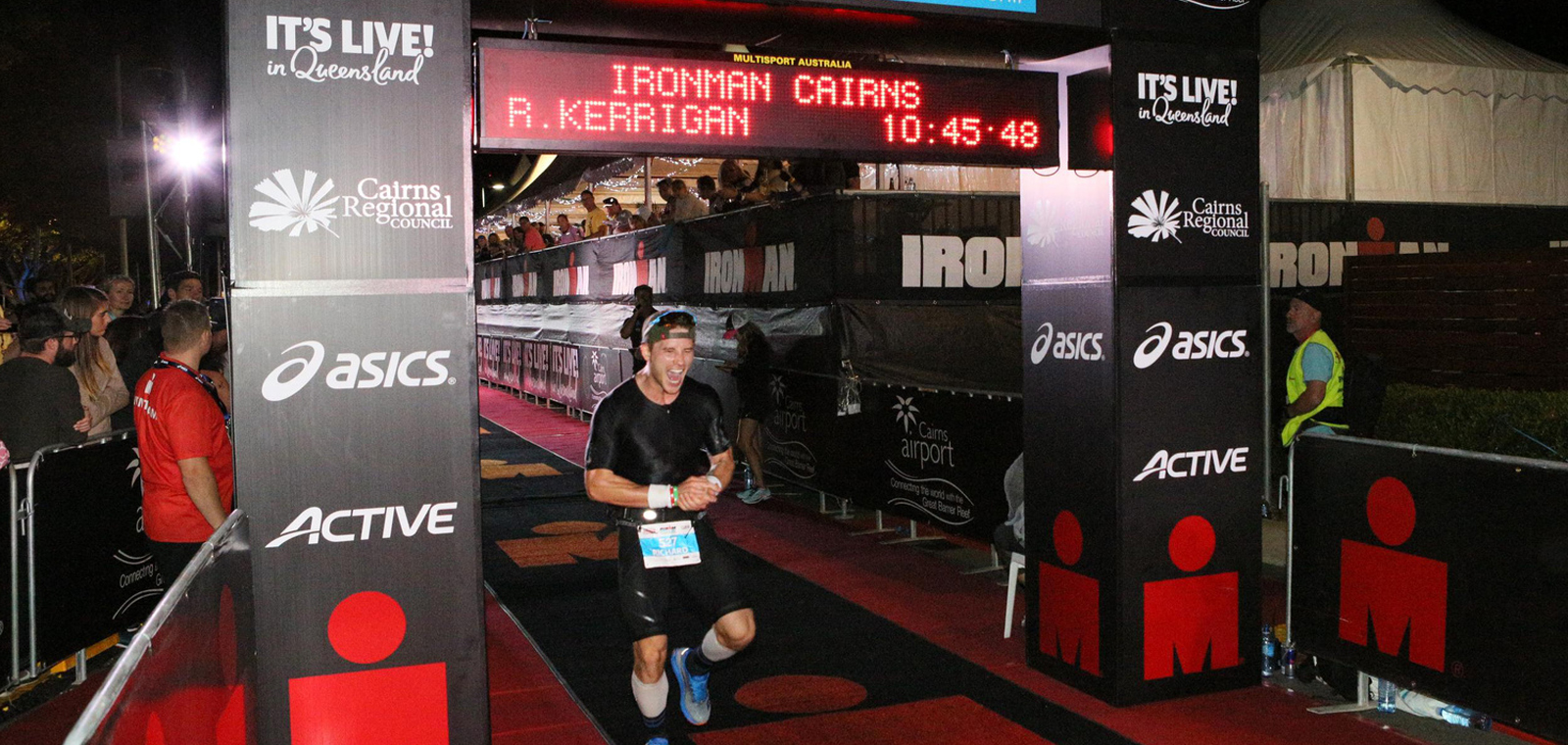 My Ironman Journey
After losing my father to depression I set myself a goal to complete a full Ironman in his honour.   The aim was to raise money for Beyond Blue which is a charity that provides information and support to people with mental health issues.  As part of this, I also wanted to inspire as many people as possible along the way.
The challenge was to complete the Cairns Ironman in June so I went ahead and booked myself a spot.
Now for those of you who don't know what an Ironman involves here is the breakdown…it starts with a 3.8 kilometre ocean swim, followed by a 180 kilometre bike ride and a 42.2km run or full marathon to 'finish off'!
I have heard a lot of people say these types of endurance races require far more mental strength than physical fitness which is what really appealed to me. I wanted to push my body to the absolute limit to then see if I had enough will power to get me over the finish line.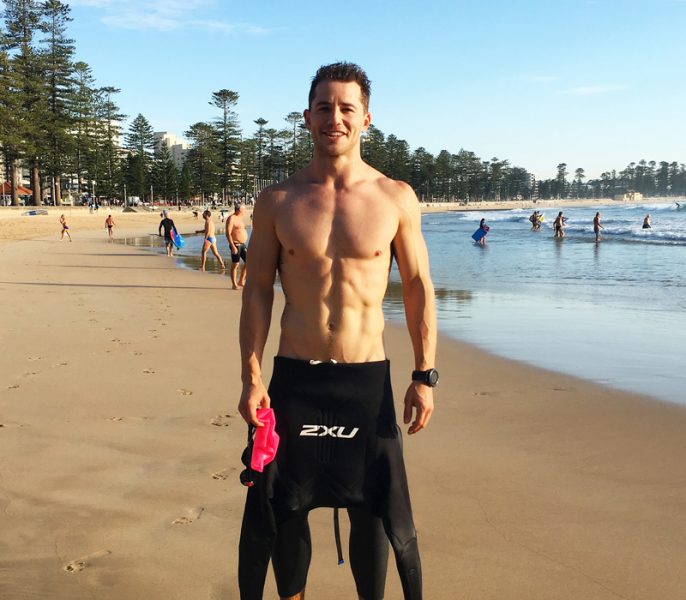 I set about devising a training plan to fit around my busy work life schedule and believe me when I tell you it wasn't easy.   As a personal trainer I start work very early each morning.  I found myself having to do the majority of my training sessions at the end of the day, which wasn't ideal as I was often tired and ready to relax.   I quickly began to realise the enormity of this challenge, understanding that the race isn't just about the day itself, its the hundreds and hundreds of training hours leading up to it that make this one of the toughest races in the world.
The time had come… feeling fitter than ever I left for Cairns.  After a 3 hour flight in Cairns to immediately see Ironman banners round every corner!  Reality was sinking in, I started to smile with excitement as I thought to myself a little bit of those banners were for me.  At the end of the weekend all being well I was going to be an Ironman.
After the arduous tasks of checking in the bike, working out what kit bag needed to go where and triple checking I had enough carb gels and energy bars I returned back to the hotel for some rest.  I remember trying to eat as much as possible to give my body the energy it needed the following day.  My final supper was pesto chicken pasta, it's one of my favourite pre race meals and a bit of a family favourite. I then finished the evening off on the foam roller along with working through some mobility exercise and stretches.
Race day
I woke at 4am after only managing 4 hours of actual sleep, I just couldn't switch my mind off. The adrenaline was already starting to kick in, and I could feel the butterflies in my stomach but I knew this was a good feeling. I tried to eat a big bowl of porridge but I just felt sick as in just over 2 hours I would be racing in my first Ironman.
After all the final checks I zipped up my wetsuit, said my goodbyes to my support crew and lined up in my start section. The start sections were split into time zones based on when you think you will finish the swim.  I decided to go in the second group trusting in my swimming training I had a rough idea in what I could complete it in.
A volunteer placed her arm in front of me holding me back until it was my time to cross the line which started my timing chip on my ankle. Her arm dropped and said shouted the words GO! I was off, I quickly pressed the start button on my watch, then took a final deep breath and made my way into the water, hurdling the first couple of waves.
The water although murky was warm and I quickly settled into my stroke. I knew the key to this whole race was to keep my heart rate low and try to relax.  It's easier said than done I can tell you!  The swim was a simple rectangle and every 400m or so we passed a large buoy to let us know we were going in the right direction. The swim didn't go entirely to plan, about 2.5k in I started to get a bit sea sick from the constant motion, this lead to a headache which isn't ideal when you are wearing swimming goggles as the pressure pulses against your temple.  I powered on and after another kilometre I could see and hear the finish line.  
As I left the water I knew after being horizontal for over an hour the blood was going to rush to my legs leaving me feeling light headed so I accounted for this by taking some deep breaths.
I hit my stop watch again which would now record my transition time. I jogged over to the changing tent where I quickly pulled off my wetsuit and slipped on my bike shoes. I now had the small task of completing two 90k laps up to Port Douglas and back again.
The scenery up there was absolutely stunning. The ride hugged the coastline most of the way up. About 140k into the bike leg is where a lot of the Ironman staff will tell you this is where your race starts as your body is now starting to really fatigue. My legs were tight but I felt good. The last 30 kilometers took us back into Cairns town centre and it was there where I would start the run. As I pulled into the town the crowds started to get bigger and I could see people had already started their run. I peeled myself off the bike, handed it to a volunteer and attempted to run to the change tent, I say attempted because my bum was so numb from 5.5 hours on a race seat –  it made the first couple of steps fairly challenging.
By now I was about 7 hours into the race. The adrenaline had kicked in again and I was about to complete my first marathon, yes thats right I had never actually completed a marathon until now. I had done several half marathons in the past but never the full distance. Whilst I don't recommend going into an Ironman a marathon virgin I knew running was my strongest discipline so I was confident I could do this even after over 7 hours of racing.
The course is to complete 3 x14 kilometre laps, and each time you completed a lap a volunteer handed you a different colour wrist band.  About 10k into the run my legs were screaming at me, I thought it would pass but it didn't.  I couldn't seem to get going which frustrated me as I was a little behind my usual pace.   I was starting to hit the wall but I knew I had to dig deep and just ignore the pain.

This was now a mental battle and the next few kilometers would change everything. I started to think about all the good times I had had with my dad and I think at one point I was actually talking to him, people in the crowd must have thought I was crazy, however it got me through.
With 2 laps completed and the last 6k to go I started to open up my stride.  I had been checking my watch throughout the whole race and I had a rough time of what I wanted to complete each sector in.  My goal for this Ironman was to finish in under 12 hours, well with 2k to go I was looking at under 11 hours.  I turned onto the famous Ironman red carpet and looked up to the finish line.  The crowd was electric. With one final deep breath I looked up to the sky said to dad 'i've done it old boy' and then sprinted down the finish chute. I crossed the line in 10 hours and 45 minutes.  I was an Ironman!! Oh my god I had done it, I had actually completed this crazy goal.
A volunteer quickly placed a finishers medal around my neck along with a towel and ushered me to the recovery area.
That feeling will stay with forever. I completed my goal and raised over $6000 for Beyond Blue. I could not have have been happier.
This challenge has taught me that hard work and determination really is the key to success. Hopefully this has inspired you to push the boundaries and believe that you are capable of much more than you think.  It was worth every second of pain and sacrifice along the way.  If you are thinking about doing something like this the key thing is belief.  Belief is now a major contributor to everything I do in life.
Could I do this?
If you are reading this thinking 'I'd love to do one I just don't know if I could complete it' well your thinking exactly what I thought. This is what makes this such an amazing challenge and one I'd recommend to anyone who is searching for a rewarding goal or looking for a mental challenge.  
It won't be easy and there will be a lot of sacrifices you have to make along the way but anything worth doing doesn't come without its challenges. 
My advice
Step out of your comfort zone and realise your true potential. Completing an Ironman has changed me for the better and I now know that anything I put my mind to is possible.