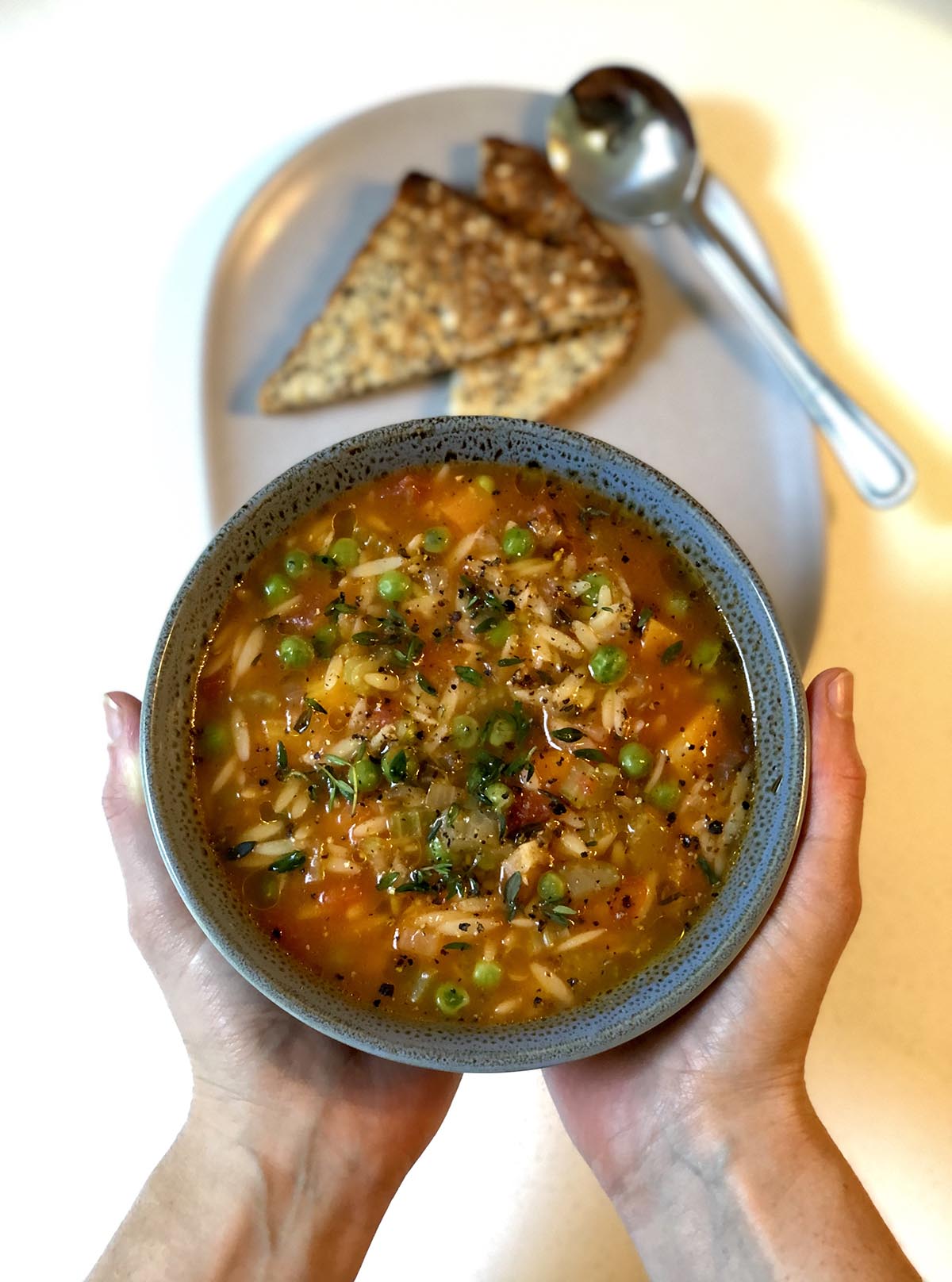 Spicy Risoni | 290 Cals per serve
Spicy Risoni

|

290 Cals per serve
You will need:
(serves 5)
1 cup risoni pasta or (200g)
1 tin chopped tomatoes (400g)
1 litre vegetable stock 
1/2 tsp chilli powder 
2 birds eye chillies, finely chopped
4 sticks celery, finely chopped
2 carrots, roughly chopped
1 brown onion, finely chopped 
3 cups frozen peas 
1 bunch fresh thyme, picked 
3 garlic cloves, finely chopped 
salt & pepper 
2 tbsp extra virgin olive oil
Top tip:
This lunch is all about speed so do yourself a favour and buy the pre-cooked rice portions, ready to go in just 90 seconds.
Simple steps:
Heat a large saucepan over a high heat and drizzle a generous amount of extra virgin olive oil into the pan. 

Add the onion, celery and carrot and fry for 2-3 minutes. Add the garlic, birds eye chilli and 1/2 bunch of fresh thyme and fry for another 2 minutes, seasoning well with salt and pepper. 

Add the chopped tomatoes and stir well. Fill the empty tin of tomatoes with cold water and add this to the pan and stir.  

Meanwhile in a separate pan bring the vegetable stock up to the boil. Once boiled add to the rest of the vegetables then place a lid on the pan and bring back to the boil. 

Once boiling add the risoni and gently stir ensuring there are no pieces sticking to the bottom of the pan. Reduce the heat to a simmer and cook for 10 minuets, stirring occasionally. 

About 3 minutes before the risoni is ready add the peas and cook for the remaining time.