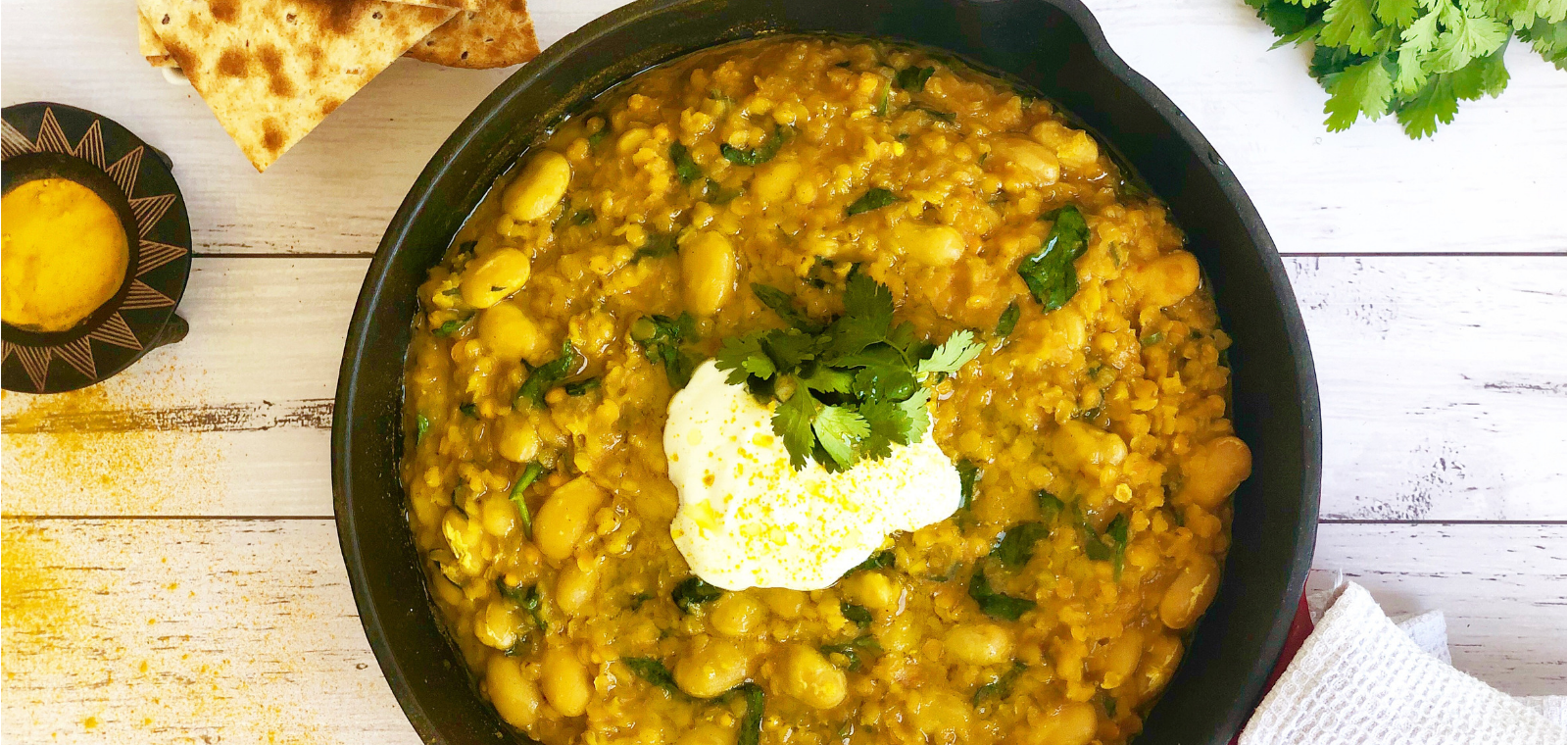 Healing turmeric lentil and butter bean dahl | 460 cals per serve
Healing turmeric lentil and butter bean dahl

|

460 cals per serve
Hearty, flavoursome and with added healing properties this protein packed dish is a regular dinner choice, ready in under 30 minutes it's a real winner. 
You will need:
(serves 4)
2 ½ cups uncooked red split lentils 
800g (2 tins) butter beans 
1 white onion finely chopped 
2 cloves garlic crushed 
2 large handfuls spinach 
3 tsp turmeric 
2 tsp paprika 
2 tsp cumin 
1 low salt vegetable stock cube 
4 wholemeal pitas or wraps
1 lemon 
4 tbs natural yoghurt 
½ bunch coriander roughly chopped 
olive oil 
salt and pepper
Simple steps:
Pan fry the onion and garlic in a little olive oil and over a medium heat until soft. 
Add the spices to the pan along with a pinch of salt and pepper and continue to stir for a minute or two taking care not to burn the spices. 
Add the vegetable stock to a separate pan along with 4 cups of water and bring to the boil. 
Rinse the lentils under cold water and add to the onion, garlic and spices. Then pour in the boiling veg stock with just enough to cover the lentils and bring back to the boil. 
Reduce the heat to a simmer keeping an eye on the amount of liquid covering the lentils. As the lentils cook they will continue to absorb this liquid so you may need to add a little more throughout. The lentils will take about 10 minutes to cook and you want most of the liquid to have been absorbed by the time they are ready. You're looking for the dahl to have a loose consistency. 
2 minutes before the lentils are ready add the butter beans, spinach and coriander and stir once more.
Serve in a bowl with a toasted pita or wrap, a spoon of yoghurt and a wedge of lemon. 
Top tip: 
The dahl will only improve with flavour over night as the spices infuse so I suggest making a large batch and storing it in the fridge ready for when you need a hearty lunch or as part of a delicious dinner, and If you fancy adding some meat to this, lamb or chicken work really well.