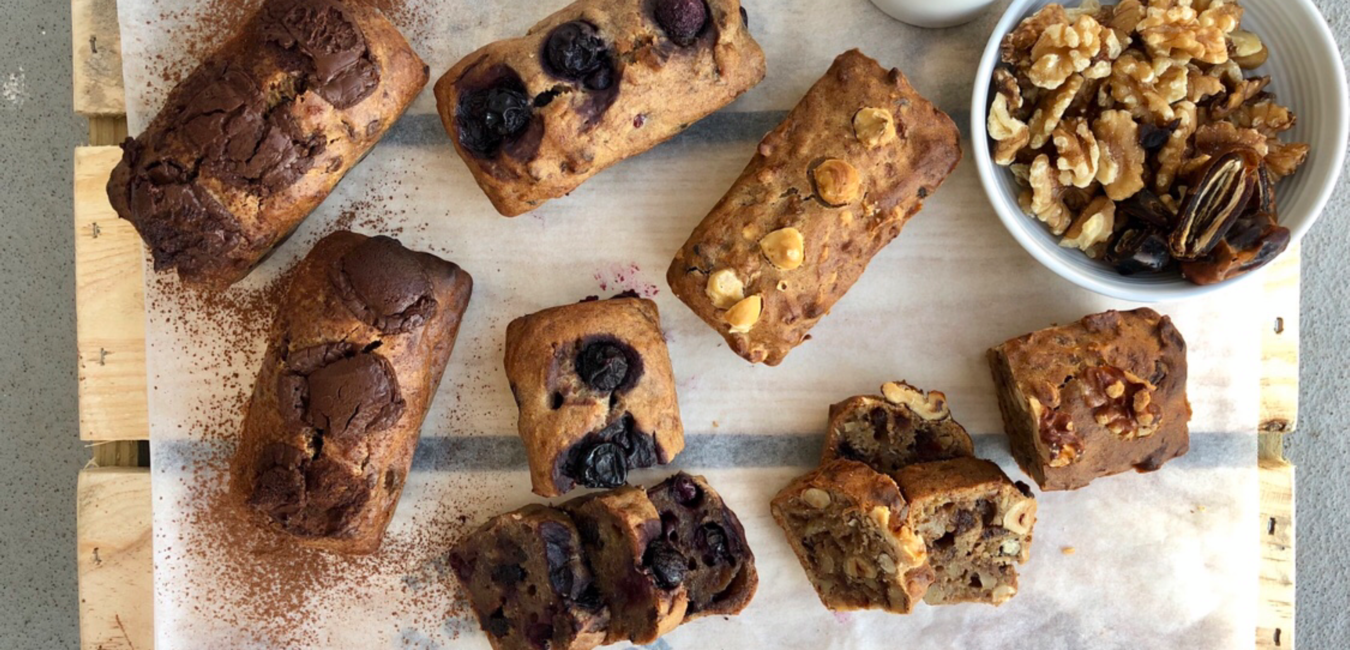 Mini banana breads | 360cals (blueberries) | 450cals (chocolate) | 420 cals (nuts)
Mini banana breads

|

360cals (blueberries)

|

450cals (chocolate)

|

420 cals (nuts)
These energy bursting treats are perfect for an afternoon pick me up. The difficult part is deciding which flavour to choose first, chocolate, blueberry or macadamia and walnut…
You will need:
(makes 6 mini loaves)
4-5 medium sized very ripe bananas
1/4 cup coconut oil 
1/2 cup rice bran syrup 
1/4 cup almond milk 
2 cups plain white flour 
4 tsp cinnamon powder 
1 tsp baking soda
2-3 tsp vanilla essence 
1 cup frozen blueberries 
90g of 70% dark chocolate 
1/4 cup walnuts chopped
1/4 cup macadamias chopped
6 mini loaf tins – silicone (10cm x 5cm) 
Simple steps:
Preheat your oven to 170°C
Peel the bananas and mash together with a fork into a large bowl. 
Add the rice bran syrup and coconut oil to the bananas and mix together well. 
Sift the flour, cinnamon powder and baking soda over the bananas and mix well with a wooden spoon. 
Divide the mixture into 3 separate bowls then add blueberries to one, roughly chop the dark chocolate into small pieces and add to the other and finally add the macadamias and walnuts to the third bowl. Leave a few blueberries, chocolate pieces and nuts to one side as these will be used to decorate your banana breads. 
Ensure all the ingredients has been mixed well in each bowl. 
Divide the mixture evenly into each silicon mould, ensuring you wipe any excess mixture from around the edge. Add a few blueberries, chocolate and nuts to the top of the breads for decoration. 
Place the silicon mould onto an oven tray and bake in the oven on the middle shelf for 55-60 minutes. Before removing, stick a metal skewer into the middle of the bread ensuring it comes out clean.