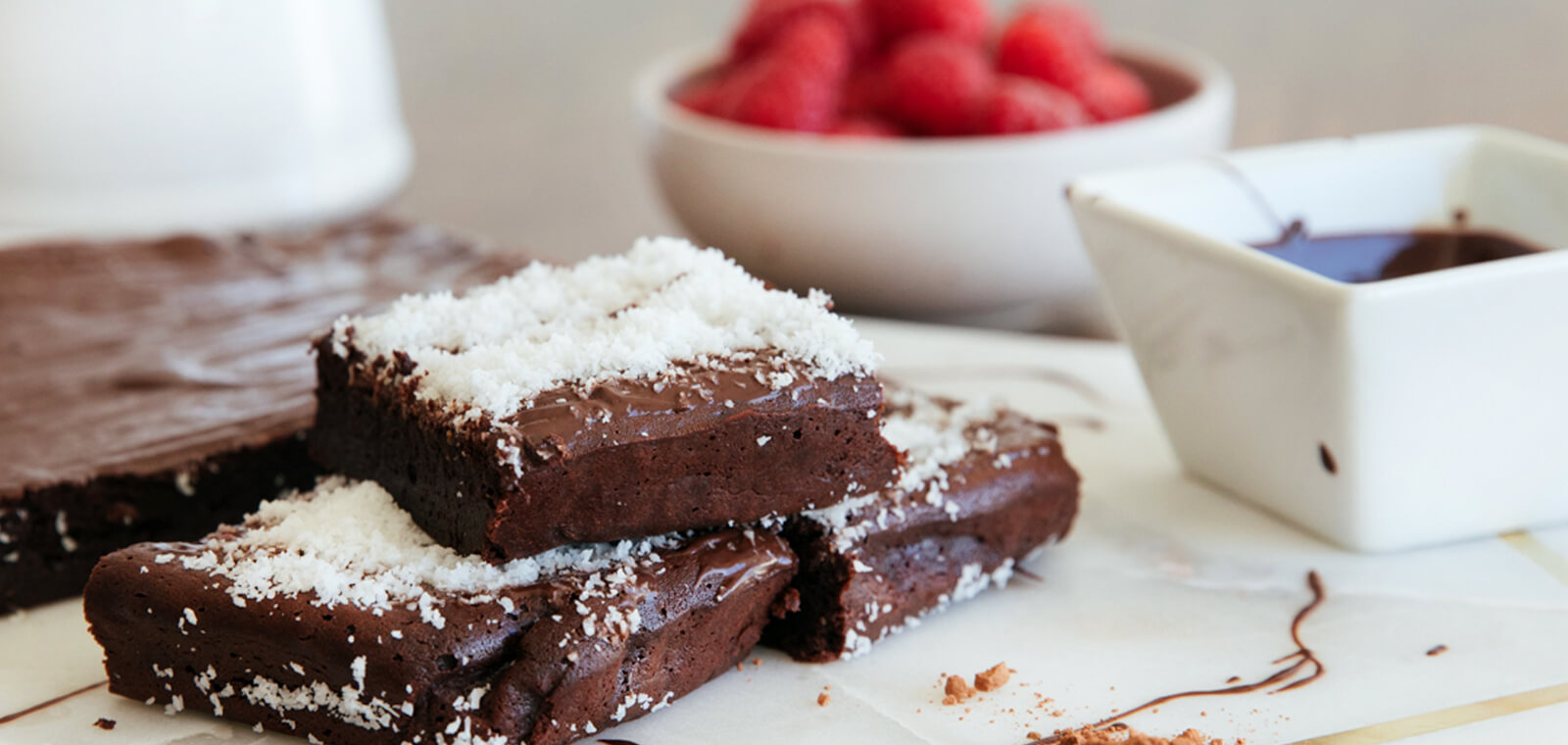 Guilt free chocolate brownies | 220 cals | + 80 cals with sauce (300 cals all up)
Guilt free chocolate brownies

|

220 Cals

|

+ 80 Cals with sauce (300 cals all up)
A healthier take on a brownie, my dark chocolate brownies are soft and indulgent and make the perfect treat when you feel like something sweet.
You will need:
(Makes 9 brownies)
1/2 cup coconut oil 
1 cup 70% dark chocolate (150g)
1/2 cup rice bran syrup 
3 whole eggs
1/2 cup cacao powder
Brownie Chocolate Sauce:
1 punnet fresh raspberries
3 tbs desiccated coconut 
100g 70% dark chocolate
Simple steps:
Pre heat the oven to 170°C, fan forced.
Line a 20cm x 20cm baking tray with a sheet of greaseproof paper ensuring it covers the sides.
Bring about 2 inches of water in a pan to the boil. Break up 150g of dark
chocolate and place into a metal bowl. Place the bowl on top of the pan of water
then reduce the heat to a simmer. Stir the chocolate whilst it melts, then remove
from the heat.
Gently warm the coconut oil in a small pan until it melts, then slowly add to the
bowl of melted chocolate. Once combined add the rice bran syrup and stir. 
Whisk 3 eggs together in a bowl and slowly add to the chocolate mix stirring as
you do this.
Finally sieve the cacao powder over the chocolate mix and give it one last stir
ensuring everything has been properly combined. 
Pour into the baking tin and bake on the middle shelf for 18-20 minutes. Once
cooked leave to cool on a cooling rack.
Whilst the brownie is cooling melt 100g of dark chocolate as you did before, then pour into a small shallow bowl. Once the brownies have cooled a little use a pastry brush and brush the top of the brownie with the melted chocolate. Sprinkle desiccated coconut over the top of the brownie and slice into 9 even portions.
Serve with fresh raspberries and dunk into the chocolate dipping sauce.