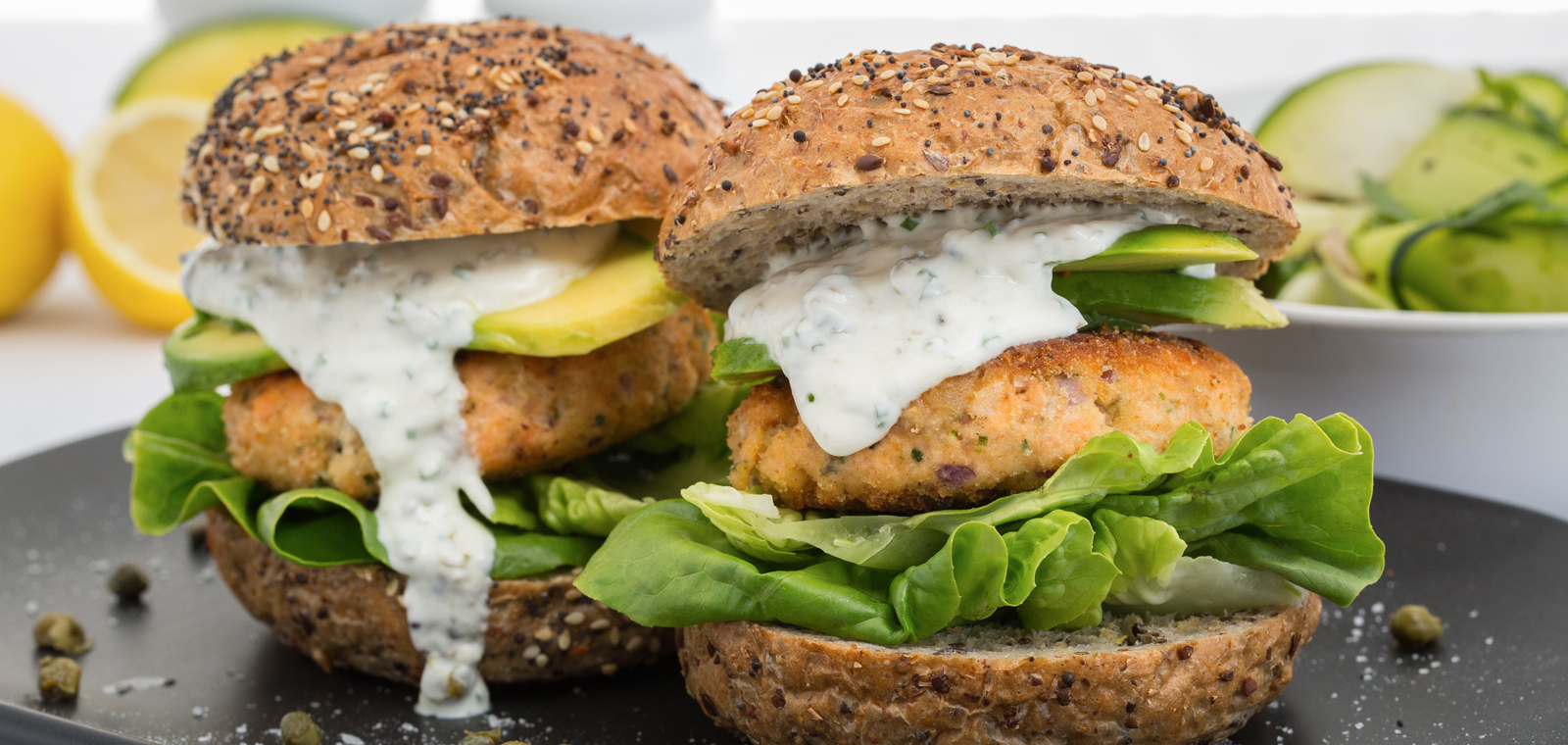 Succulent salmon burger with a fresh edamame bean and zucchini salad | 931 cals per serve
Succulent salmon burger with a fresh edamame bean and zucchini salad

|

931 Cals per serve
Is there anything better than enjoying a burger? Yes! Knowing it's actually good for you. This is comfort food at its very best.
You will need:
(Serves 4)
4 salmon fillets, skinned
1 red onion, finely diced 
1 bunch chives, finely chopped 
4 tsp capers, roughly chopped 
pinch cayenne pepper 
4 wholemeal rolls/buns  
4 tbs natural full fat yoghurt
1 lime 
2 lemons 
2 garlic cloves, crushed 
1 cup breadcrumbs 
1 avocado, sliced
2 baby gem lettuce, finely sliced 
Salt and pepper 
Olive oil 
Salad:
4 zucchini ribbons 
2 cups edamame beans
1 bunch fresh mint, finely chopped 
3 tbs sunflower seeds
Olive oil
Simple steps:
Pre heat the oven to 180°C. Roughly chop the salmon into small pieces then add to a large mixing bowl. Add the red onion, ½ bunch chopped chives, a pinch cayenne pepper, the zest of one lemon along with the juice, ½ cup of breadcrumbs, 2 tsp capers, garlic, and a good pinch of salt and pepper, mix well.
Using a stick blender pulse the salmon mix until it starts to come together. Portion then mould the mix into burger sized patties. Wash your hands every 2-3 patties to stop the mix from sticking. 
Tip the other half of the breadcrumbs into a small bowl then toss the burgers through the crumbs evenly coating them.
Pan fry the patties in a little olive oil over a medium heat until golden on both sides. Once coloured place onto an oven tray and cook in the oven for 4-6 minutes. 
To make the salad peel the zucchinis using a vegetable peeler creating long ribbons. Place into a mixing bowl along with ½  a bunch fresh mint leaves. 
Cook the edamame beans in a pan of boiling water for 2 minutes then drain and rinse under cold water. Add to the zucchini ribbons once drained.
Season the salad with salt and pepper, then dress with ½ a lime squeezed over the top, and a drizzle of olive oil and top with sunflower seeds.
Mix the yoghurt in a small bowl with ¼ bunch finely chopped mint, 2 teaspoons of capers,  ½ bunch chopped chives and a good twist of black pepper. 
Toast the wholemeal buns under the grill for a few minutes then start to build your burger. 
Place a few baby gem lettuce leaves on the bun then top with a salmon burger. Add slices of avocado along with a large spoon of mint and chive yoghurt. Serve with the fresh zucchini and edamame bean salad.