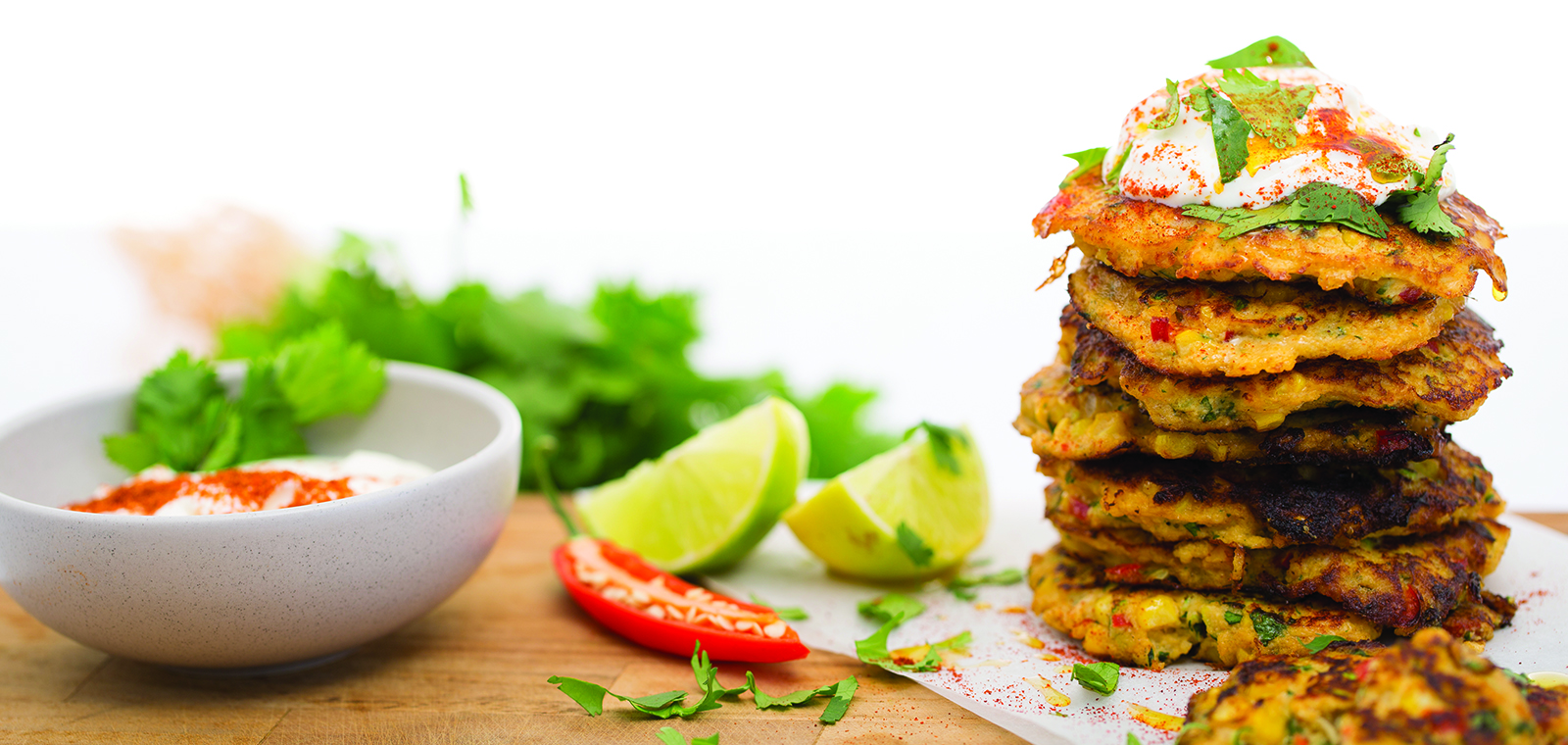 Smokey sweetcorn and zucchini fritters | 270 cals per serve
Smokey sweetcorn and zucchini fritters

|

270 Cals per serve
You will need:
2 sweetcorn cobs

2 zucchini grated

½ red onion, finely diced

1 red chilli, finely chopped

1 ½ tsp smoked paprika

3 whole eggs, beaten

½ cup self raising flour

½ bunch coriander, 

roughly chopped

2 t

bsp natural yoghurt (full fat)

lime

olive oil

salt and pepper

milk (dash), optional
Simple steps:
Turn the grill on high.

Place the sweetcorn cobs onto an oven tray, drizzle with olive oil and season with salt, pepper and 

½ 

tsp of smoked paprika. Rub the seasoning into the corn and grill for 8 minutes turning half way.

 

Don't worry if they start to burn a little, this adds to the smoky sweet flavour.

Once cooked stand the corn upright.

Using a sharp knife carefully slice the corn off the cob.

Place the grated zucchini into a colander and squeeze out as much of the water as you can, then transfer to a large mixing bowl.

Add the red onion, chilli, half the coriander, 3 eggs, self raising flour, the rest of the smoked paprika, grilled corn and a good pinch of salt and pepper to the large mixing bowl.

Mix together well. If it looks a little dry add a dash of milk. The mixture should resemble a thick batter.

Heat a non stick pan over a medium heat with a little olive oil. Using a serving spoon add a heaped serving of batter to the pan and spread out a little, depending on the size of your pan you should be able to fry 3-4 fritters at a time.

Whilst the fritters are cooking spoon the yoghurt into a small bowl, squeeze in fresh lime and add the rest of the coriander and mix well.

Turn the fitters after 2 minutes and cook for a final 2 minutes on the other side. Serve 3-4 fritters per person and top with a spoon of coriander and lime yoghurt.