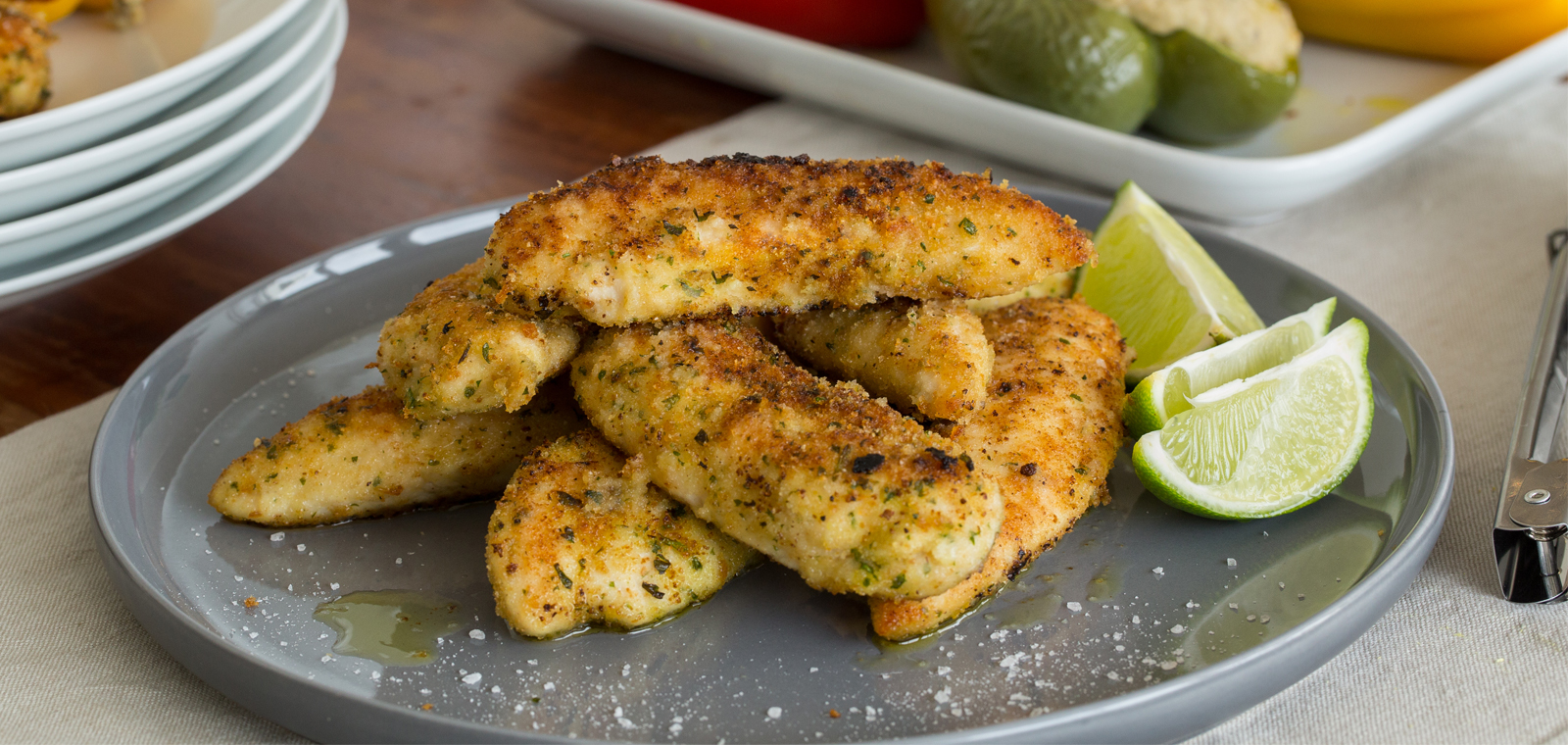 Herbed crumbed chicken with roasted capsicum stuffed with lemon and eggplant hummus | 960 cals per serve
Herbed crumbed chicken with roasted capsicum stuffed with lemon and eggplant hummus

|

960 Cals per serve
Get the kids involved in making my version of healthy chicken nuggets. They're so tasty you won't believe they're good for you. 
You will need:
(serves 4)
16 chicken tenderloins (3 large chicken breasts cut into 4 tenderloins per serve)
2 large capsicum 
1 large eggplant 
1/2 bowl breadcrumbs 
2 lemons 
1 bunch parsley, finely chopped 
1/2 red onion finely chopped 
2 tbs tahini paste 
2 tins chick peas 
1 small bag rocket salad 
2 garlic cloves grated 
olive oil 
chilli flakes 
salt and pepper 
Simple steps:
Pre heat the oven to 

180°C

Slice the capsicum in half lengthways and remove the stalk and seeds. Lay onto an oven proof tray. Slice the eggplant into thin strips and lay onto the tray with the capsicum then drizzle both with olive oil and salt and pepper. Roast in the oven for 20 minutes.
In a large bowl place the breadcrumbs, the zest from 1 lemon, 1/2 bunch of finely chopped parsley and a good twist of salt and pepper, then give it a good mix. 
Place the chicken tenderloins into a separate bowl and drizzle with olive oil. One at a time toss them through the breadcrumbs pushing the crumbs into the chicken to ensure an even coat, then lay onto a tray ready to pan fry.
Once all the tenderloins have been well coated, heat a pan with a little olive oil over a medium heat and fry 4 at a time, they will quickly turn golden so keep an eye on them. Place onto an oven tray and roast at 180

°C for 8-10 minutes. Ensure the meat is white all the way through before removing. Remember to rest the chicken before serving.

To make the hummus, drain and wash the chickpeas and tip into a large bowl. Roughly chop the roasted eggplant and add to the bowl with the red onion, 1/2 bunch parsley, tahini paste, juice of one lemon, a good twist of salt and pepper, a couple pinches chilli flakes and 4-6 tablespoons of olive oil.
Using a stick blender pulse the mixture until it starts to come together, you can choose how smooth you want it. I like mine with a little texture.
Fill each roasted capsicum with a few heaped tablespoons of fresh hummus then serve the stuffed capsicum with the herb crumbed chicken and a rocket salad drizzled with olive oil, fresh lemon juice and chilli flakes.