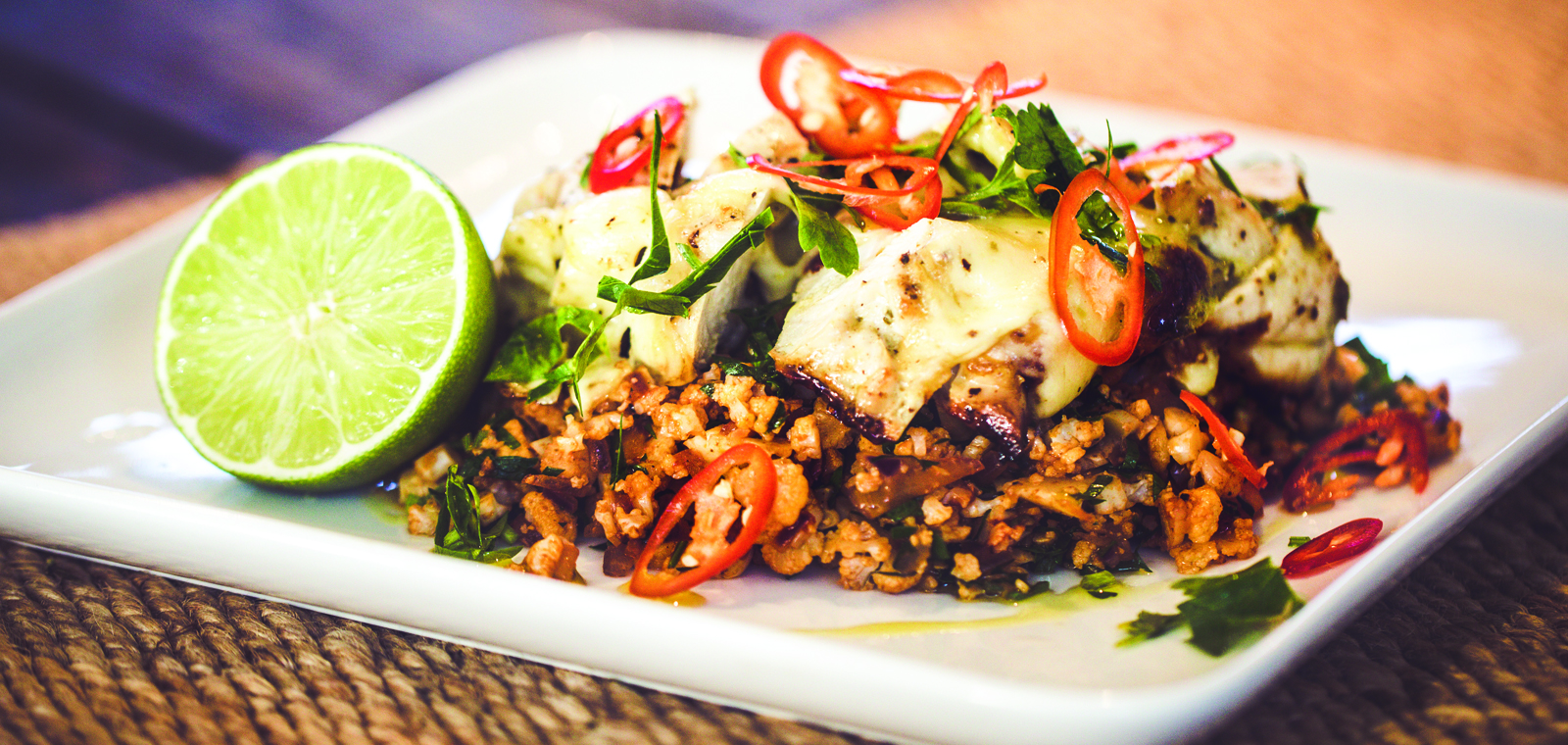 Chicken stuffed with sun dried tomatoes pesto and mozzarella with spicy cauliflower rice | 750 cals per serve
Chicken stuffed with sun dried tomatoes pesto and mozzarella with spicy cauliflower rice

|

750 cals per serve
This dish is an absolute favourite at my house. The stuffing adds a delicious mediterranean flavour and keeps the chicken nice and tender as it cooks.
You will need:
(serves 2)
2 skinless chicken breasts

8 sun dried tomatoes

2 tsp of pesto

4 slices mozerella

1/2 cauliflower

1 red onion finely diced

1 garlic clove crushed

2 tsp moroccan spice

1/2 bunch fresh flat leaf parsley finely chopped

1 tsp tomato puree

drizzle olive oil

8 cocktail sticks
Simple steps:
 Preheated your oven to 200°C 


Trim any excess fat or skin off the chicken breast then lay it on its side. Cut a slit in the chicken creating a large pocket, then spread a little pesto inside.

Fill each chicken breast with 4 sun dried tomatoes and 2 slices of mozzarella cheese. Close the pocket and push 4 cocktail sticks through the gap sealing the ingredients in. Drizzle with olive oil and season with salt and pepper. Roast in the oven for 25-30 minutes.

To make the cauliflower rice, finely slice the head of the cauliflower, the finer you can cut it the better. (If you aren't confident cutting the cauliflower really fine use a cheese grater.)

In a pan cook the onion and garlic in a little olive oil then add the cauliflower rice and the moroccan spice. Add teaspoon of tomato puree and cook for 2-3 minutes.  Add a splash of water so the puree doesn't burn.

Remove from the heat and fold in some fresh parsley.

Once the chicken is cooked remove the cocktail sticks and slice on the angle. Sit on top of a serving of cauliflower rice and tuck in.