What to do with the Christmas leftovers
Christmas ham with dukkah eggs
You will need:
(Serves 1)
2 eggs
Dukkah spice
Christmas glazed ham
2 pieces Burgen soy & linseed bread
1 large handful spinach
Simple steps:
Soft boil 2 eggs in a pan of boiling water for 6-7 mins. Microwave the spinach in a bowl for 45 seconds and toast the bread. Once your eggs are cooked peel then slice in half. Lay the spinach on top of the toast and top with the cooked eggs. Sprinkle a little dukkah spice over the eggs and serve with a few slices of cold Christmas ham. 
This is also a great post workout brekkie.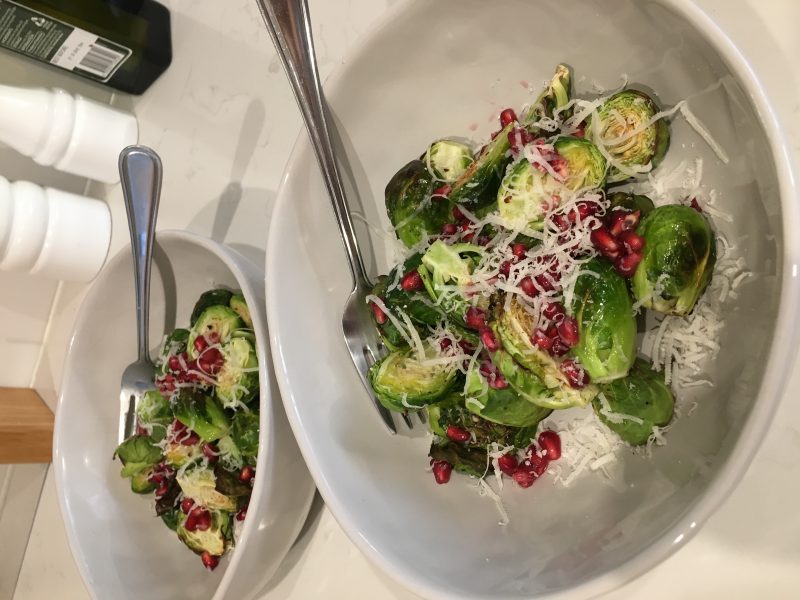 Brussels sprouts with fresh pomegranate and parmesan cheese
You will need:
(Serves 2)
Brussels sprouts 
1 pomegranate 
2-3 tbs strong parmesan cheese
Simple steps:
Turn your grill on high then slice the sprouts in half if they aren't already. Lay the sprouts onto an oven tray and drizzle with olive oil and season with salt and pepper. Grill for 6-8 mins on high. Serve in a bowl with fresh pomegranate seeds and grated parmesan cheese over the top. 
This old British classic is a great way to use up the mountain of vegetables that are often left over after Christmas. You can use just about any cooked veg and by adding some cold meat  and some hot gravy turns this into a delicious feast. Trust me if you haven't tried it you don't know what you are missing.
You will need:
(Serves 4)
roast potatoes
carrots 
cabbage 
broccoli 
sprouts 
onion 
garlic clove
Simple steps:
Fry some diced onion and garlic in a pan until golden brown, then chop up the left over carrots, cabbage, broccoli and sprouts and add them to the pan. Add a little more olive oil and season well. Fry for a couple of minutes removing the water from the veg then add the diced roast potatoes. Using a potato masher, mash all the veg together. The potato catching on the side of the pan is where the term bubble and squeak comes from. Once this starts to happen slide the bubble and squeak out of the pan and onto a board. Slice and serve with some cold meats.
Repeat these recipes until it's all gone!!